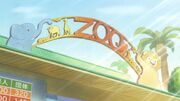 The Zoo (動物園, Doubutsu-en?) is the second place Panda visits to find employment after Polar Bear turns him down at the Cafe.
He meets Handa there.
List of workers
Edit
Zoo animals
Edit
Polar Bears
Seals
Penguins
Elephant
Kangaroos
List of exhibits
Edit
Ad blocker interference detected!
Wikia is a free-to-use site that makes money from advertising. We have a modified experience for viewers using ad blockers

Wikia is not accessible if you've made further modifications. Remove the custom ad blocker rule(s) and the page will load as expected.