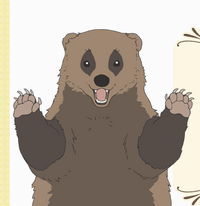 Badger (アナグマ, Anaguma?) is the first applicant for the part-time job.
Appearance
Edit
Badger is brownish, but his underside and around his eyes are darker, while his limbs are more blackish.
Personality
Edit
At the Polar Bear's Cafe, he confuses 'hall' with 'hole' and exclaims he is good at digging them, and tries to dig through the table.
Relationships
Edit
Abilities and Powers
Edit
bad hairline
Ad blocker interference detected!
Wikia is a free-to-use site that makes money from advertising. We have a modified experience for viewers using ad blockers

Wikia is not accessible if you've made further modifications. Remove the custom ad blocker rule(s) and the page will load as expected.